Summer Hiking Day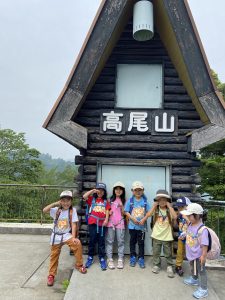 Like our elementary counterparts, the preschool does go hiking.  While the Shotoubu goes hiking up Mt. Fuji, the preschoolers go hiking up Mt. Takao twice a year.
Our first Hiking Day of the year was exciting as this is the first Hiking Day for our first year learners.  Hiking Day is challenging as our learners need to have stamina to make it to the top.  It also takes a lot of willpower and endurance as our young preschoolers our usually chauffeured around by their parents and don't have much experience outside of preschool walking long distances for a long period of time.  While our first year learners may shed a tear or two on the way up, getting to the top gives them lots of confidence that when we come back for our second Hiking Day in the fall, they are usually excited and ready for their hike.  Usually from the second hike up Mt. Takao, our learners are so excited to reach the top, they sometimes walk up faster than the teachers.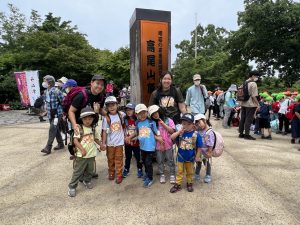 On this Hiking Day, the experienced learners were eager to reach the top that they helped their first year friends to the top by holding their hands and guiding them to the top.  The first year learners had a hard time keeping their pace and keeping up with the class but otherwise made it to the top without crying for their parents.  Great job Preschool!