Nature Camp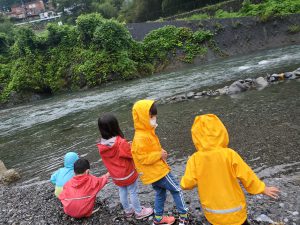 We finally were able to go to our long awaited Nature Camp!  While we had our Pajama Party, a one night sleep over in the past, this was our first overnight and way trip.  We were all excited for camp, but a little nervous about the sleep over.
When we got to camp. the weather wasn't very ideal, but it helped us learn some new vocabulary, "fog!"  It also didn't stop us from running around and making many new discoveries at the camp site!  We found lots of new bugs, some frogs that blended into the rocky river bank.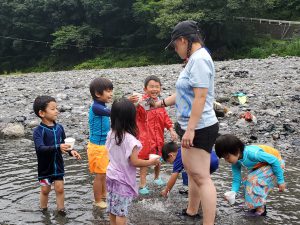 Although it was a little cold, we couldn't stop ourselves from taking a small dip in the river.  We found a small area that was shallow, where we wouldn't get swept away by the current.  We changed into our swimwear to take a dip.  Since it was the first time for many of us to swim in a river, we were all very excited.  In the river we found lots of small fishes that were really hard to see since they blended in with the rocks.  We also found a big fish.  We wanted to catch it, but it sadly swam away after we chased it too much.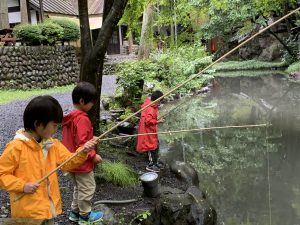 We also were able to do crawfish fishing at the pond near our cabin.  We rented a few fishing poles and got some bait to catch (and release) the crawfish.  It was not only fun, but also educational.  We had to be patient and slow if we wanted to catch the crawfish.  If we moved too fast, they would swim away.  Everyone caught at least one crawfish, so it was a great experience.  However, releasing the crawfish wasn't too fun for a few friends, who were scared of the crawfish.  Maybe next time it won't be too scary.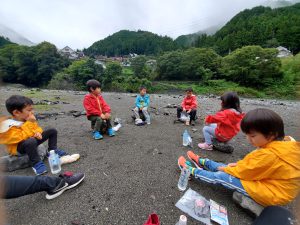 During camp, we took full advantage of the nature around us.  We used giant rocks as chairs for every meal.  Also, during dinner the weather took a turn for the worst and began to drizzle.  Instead of running for cover under the BBQ hut, we ate under the shelter of the large trees.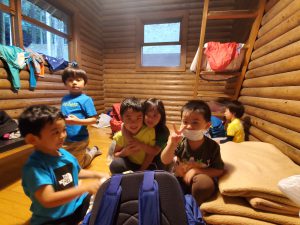 At night we played with fireworks before we went to bed.  Fortunately the rain didn't come until we were finishing up the fireworks.  We quickly packed up and helped the teachers carry everything into our cabins because it was starting to rain hard.  The rain made all of us nervous before bed, but we were all too tired, so we quickly fell asleep.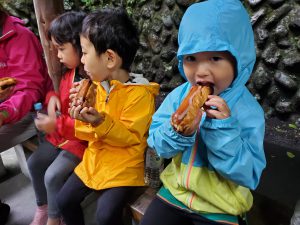 The next morning we woke up to another foggy day, however it wasn't raining!  We had our hotdog breakfast, which was a feast for the eyes.  We learned a cool way to cook hotdogs.  We prepared the hot dogs by wrapping them in foil and then putting it all in a milk carton and setting the milk carton on fire!  We told the teachers, "Be careful!" as they lit each milk carton on fire.  It was a little scary since it was a fire, but we were all in awe at how the fire cooked the hotdogs.
We also had some s'mores for breakfast too!  We were supposed to eat it after the fireworks, but since it was rainy we ate it for breakfast.  Some of us had already made s'mores before, so we were very excited to show off their expertise!  However, for the majority of us, it was our first time.  We watched how to make it before trying it our for the first time.  Some of our marshmellows caught on fire, which was funny, but we tried not to burn it.  We loved the s'mores and kept going back for thirds and forths!
We had lots of fun at Nature Camp, so we can't wait for the next camp…  Horse-Riding Camp!