Unit of Inquiry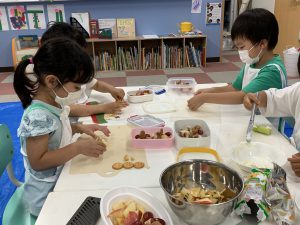 Cooking
We started off our Transportation theme with a bang by making fruit and vegetable cars!
We began with the fruit cars.  We had to cut a portion of the apple out of their 1/4 section to make the driver's seat.  This was a little difficult as we had to be careful not to cut all the way thought, but everyone tried their best and were able to carve out little sections before asking for help.  The next step was to attach the grape wheels onto the apple car body! We did this by poking a toothpick through the apple and then attaching the grapes to the toothpicks.  We finally added a Chocolate Koala driver.
For the vegetable cars we took some celery and spread cream cheese down the middle.  We then had to spread cream cheese on the four corners of our vegetable car for our biscuit wheels.  We were very impressed that everyone not only recognized the different parts of a car (wheels, steering wheel, etc), but that they even took it a step further and explained, "I'm putting it in the 駐車場!" when putting their fruit and veggie cars away in their Tupperware!
Fine Motor Skills
For our fine motor skills, we made paper airplanes!
While most of us chose to make a simple paper airplane, a few decided to try their hand at different shapes/styles of paper airplanes to see which kind flew the best. We started our experiment with origami sized papers and then moved on to bigger A4 sheets once the we understood the technique a little better.
This was not only a great way to introduce airplanes/things that fly through the air and practice their fine motor skills with folding the actual paper into planes, but learning how to properly throw a paper airplane turned out to be a great gross motor skill exercise as well. We had to learn how to control their body so that instead of just flinging this airplane up or towards the ground, they could gently float their airplane through the air, resulting in it flying further and straighter towards our airplane obstacle course goals.
The paper airplanes were also a great introduction to experimentation and potential failure. We learned that not all papers make great paper airplanes, some types of airplanes fly better than others, and that sometimes you have to re-do your work and really concentrate if you want a successful paper airplane.
Play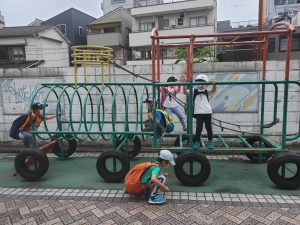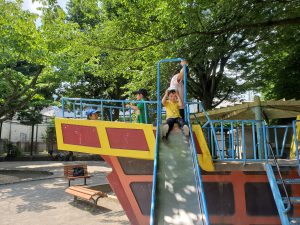 Parks
As we went to a few nearby parks we noticed that many of them had transportation themed play equipment.  First we found this climbable train, then at another park we found this huge boat with 3 slides.  In the sandbox behind there was another cement rowboat.  We had fun pretending to ride the train, and captaining the pirate ship.
Art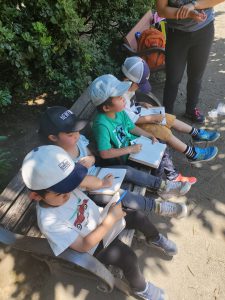 Sketching
For our first week we took a trip to Momijiyama Park to sketch the giant steam train model.  We took about 10 minutes on each side of the train, sketching it from far away and then getting closer to look at all the details.  Everyone was pretty amazed at how big the wheels were.  They even noticed the train number written in gold on the side of the train.