Unit 2: "NEWS"
(Practicing to "Hold the door and check please.")
Central Idea:
People organize information and move in specific ways for safe travels.
Skills:
Social Skills: Leadership
Self-management Skills: Safety
Communication Skills: Listening: Listening and Responding.
Spirit:
Ownership and Confidence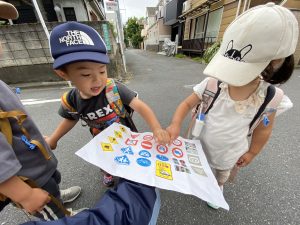 (Learning about road signs that keep us safe.)
Unit Summary – テーマ概要
In this unit we will be looking at what information affects our safety.  We will learn how to use specific movements, so we can travel safely.  We will also learn how to follow and give instructions to allow us to travel safely.
This unit will be a way for learners to learn about safety as we travel.  Our learners will learn about street signs that pedestrians should be aware of, safety procedures while riding the train and bus, and most importantly, safety procedures for walking outside and inside the classroom.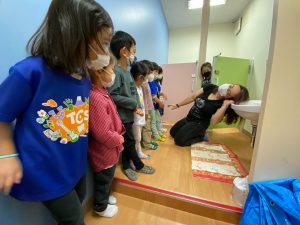 (The class learning about safety in the bathroom.)