Summer is finally here!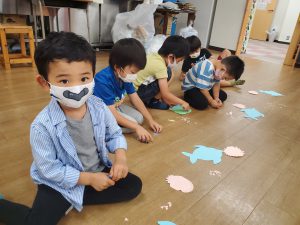 Usually Summer School at Tokyo Community School is usually reserved for friends who usually don't attend our preschool, however due to missing a few weeks of school earlier in the semester our usual preschoolers were invited to attend as well.  With our usual preschoolers leading the newcomers, we had lots of fun during the week we spent together.
Our theme for the week was ocean animals.
At the park we played lots of ocean version of school yard games, like "What's the Time, Mr. Shark?" (What's the Time, Mr. Wolf), "Fish, Fish, Shark" (Duck, Duck, Goose), "Run to the Coral" (Four Corners), and so much more.
We also did lots of arts and crafts together too.  We made foot and hand print lobsters, a hungry shark game, and even our made our own under the sea T-shirts.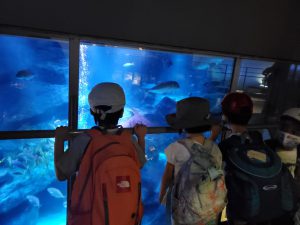 The finale of our week-long summer school was at Sumida Aquarium. We explored all the tanks together and learned some interesting facts about the fishes as we saw each tank.  Did you know octopuses have three hearts?
We had lots of fun together that when the week was over, it was sad to say good-bye.  We hope to see our preschoolers again after summer break, and we hope to see our new friends again sometime toon.
Have a fun and safe summer vacation.