Unit of Inquiry
Sail Boats "Wind Power" – Boat Experiment Pt.2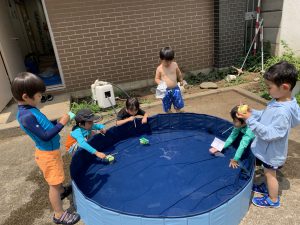 Last week we made floating boats, so this week we worked on improving our handmade boats!
Using the boats we already made, this week, we worked on making good sails for our boats.  We wanted to use "wind power," a term one of our friends created.  We tried our best to make a nice sail, so our boats would sail speedily across the water.
When it was time to test our boats, we used straws to make a man-made wind to blow our boats across our tiny "pond."  However, we soon realized that the farther away the straw was from the boat, the less wind it creates.  They all began to get closer to our boats to blow and create a decent wind.
Art
Fine Motor Skills Boat
We celebrated our love of boats with a FMS triple threat art project!  We made our own boat collages, but in order to do so we had to listen carefully to instructions and follow it step-by-step.
First, we had to color the sun, then we had to cut out a boat shape from some colored paper.  Unfortunately most of us had trouble mastering the correct shape, but we were able to use the scissors safely and we did finish cutting to the best of our abilities. Second, we had to create the sails.  We got to choose a color and had to watch and listen carefully so that we could fold the sails the right way.  The last, and probably the most challenging step, was to create the waves.  We had to be careful when folding the waves because we had to fold-turn over-fold-repeat.  It was a bit difficult for some of the younger ones, but we all managed to complete our boats with some help.
Play
PE
For this unit, our sport is soccer.  Had had been practicing how to kick and control the ball for the past two weeks, so this week we did some challenges.  We practiced controlling the ball as we dribbled then we had to kick it between the two goal posts.  When everyone was able to do it solo, we moved on into teams.  It was a great way not only for the continued development of our gross motor skills, but also our communication and teamwork skills. It was an important activity to learn that "winning" or completing one's goal doesn't have to be a solitary activity, and that you can sometimes achieve your goals even faster if you're able to work well with another person.  Dribbling the ball as a team was very difficult, but with more practice we will be able to work more cooperatively in a team soon.

Yoga
With Yoga, we wanted to focus on balance and control.  Everyone was able to follow directions and copy the teacher well.  We also were able to use some vocabulary from previous lessons, like tilt, and also, our favorite, don't "capsize" ie. don't fall over.
Outing Day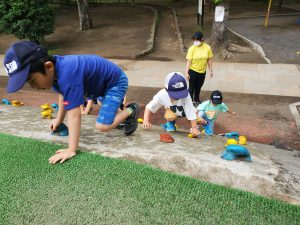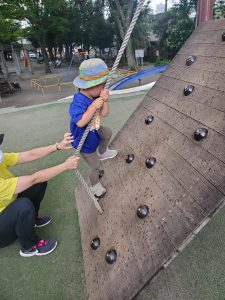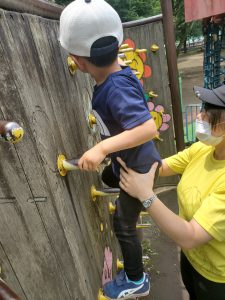 For our third Outing of this Unit we decided that it would be more beneficial for the everyone to go to Ochiai Park and challenge the various play equipments.  Hiking up Mt. Takao gave us lots of confidence, that we thought it would be a great time to see the improvement in our physical and gross motor skills.
Instead of having free play all day, we had specific "ninja challenges" to complete.  We were all very motivated and wanted to go from ninja trainee to ninja master ASAP!  Our first challenge was climbing the rock walls 5 times each!  The next challenge was the rope wall! This one was also done mainly all by ourselves, with only a little support from teachers so that we could learn the proper technique for using the rope.  The third challenge was the climbing wall.  It was especially difficult, as we had to use both hands and feet to climb sideways.  The final challenge was the super zip-line! We all did amazing at holding on and riding it all the way to the end.