Plant Diorama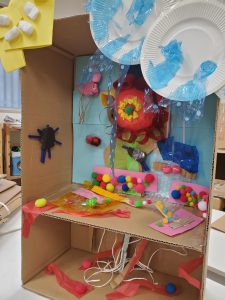 For this week's big project we all worked together to make a diorama of a plant- showing both the parts of a plant above ground-flower head, stem/leaves, sun, water, and parts below the dirt-root system and worms.  We also noted that besides the parts of the plants we learned about in class, there are lots of bugs outside when we go to the park, so we had to make sure to add those in as well!
Everyone worked together to make bugs and the plant to create one big diorama.  They freely chose materials from our Tinkering Box and created their own plant and bugs.  Some of us needed a little guidance on how to put together our pieces, but overall everyone did a really good job working independently and making their own interpretations of what their parts look like without any visual references.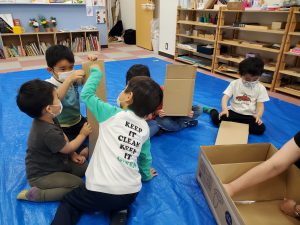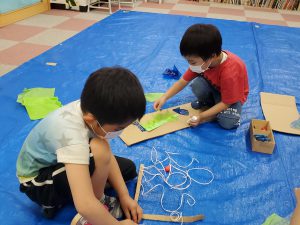 Cooking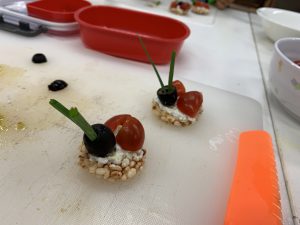 For Cooking this week we did two smaller recipes instead of one big one. First was our Ladybug Snacks! The ladybug is made by spreading a mix of greek yogurt and cream cheese over a cracker of your choosing (we used puffed rice crackers), and topping it with quartered tomatoes for the wings, an olive cut in half for the head, and some green onion for the antennas!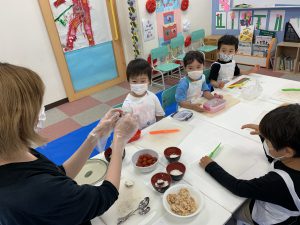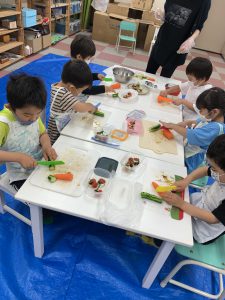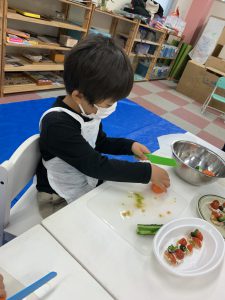 After finishing our ladybugs we moved on to our second recipe, carrot and cucumber stamps! We cut our vegetables into small discs and then once everything was cute we used cooking stamps to cut them into fun shapes! The carrots turned out to be a little hard to cut with the plastic knives, but everyone really tried their best and put some muscle into it.
Here are the recipes if you would like to try them out too!
Ladybug Snacks: https://www.tasteofhome.com/recipes/ladybug-appetizers/
Carrot and Cucumber Stamps: https://www.eatsamazing.co.uk/family-friendly-recipes/snack-ideas-recipes/fun-food-tutorial-carrot-cucumber-coins
Greek Yogurt Dip: https://tasty.co/recipe/greek-yogurt-veggie-dip
Dance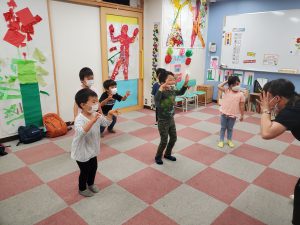 Since it's almost the end of Unit 1, for our final P.E. we added a special treat, dance!  First we looked at a short video of The Lion King Musical and pointed out how the actors were dancing in a way to make them look like animals. They all loved seeing the different costumes and pointing out all the different animals they saw.  We then showed an example of The Lion King that we were going to copy for our choreography.  Everyone was super excited to become lions! It was really amazing to see how well everyone paid attention and to see how self-motivated they were to learn and practice a new thing. Beyond simple muscle memory and memorization skills, this was a great way to see everyones hand-eye/hand-feet coordination, rhythm, and balance in movement skills.
Outing Day


For our Outing Day this week, we rode the train all the way to Inokashira Park in Kichijouji!  Once we got to the park we walked around for a little bit.  As we were trekking through the park we noticed leaves with holes in them from very hungry caterpillars, mushrooms growing from a stump, and some ducklings swimming across the water!  We also stopped to do some "En Plein Air" sketching of all the beautiful greenery and trees we saw around us.  It was wonderful to give everyone the opportunity to draw nature IN nature.  We hope this will help them also become more aware and appreciative of their surroundings.  Later we also spotted some play equipment and decided to stop by and play.  While the playgrounds were great, we seem to veer away from the equipment into the trees and other natural areas, exploring all the root systems, branches, and rocks.