Unit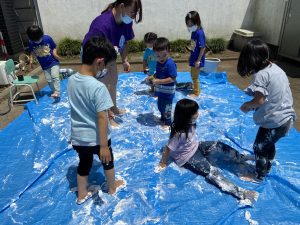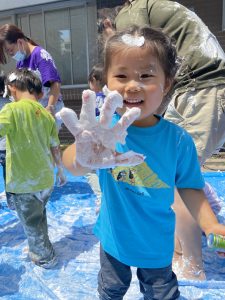 This week was once again spent preparing for the presentation, but we also had a little fun activities too.  We learned that the sense of touch is not just with our hands, but with our feet too!
To test our sense of touch with our feet, we went shaving cream skating.  Our learners used their Fine Motor Skills to push the button on the spray can to help spray the blue mat with shaving cream.  After that we all carefully went skating.  The shaving cream is slimy and slippery so our learners needed use their Gross Motor Skills to balance.  However, falling and feeling the shaving cream on your skin is more than half of the fun.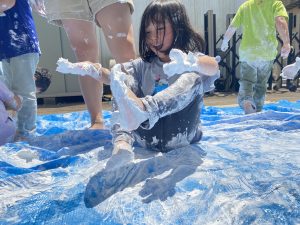 Play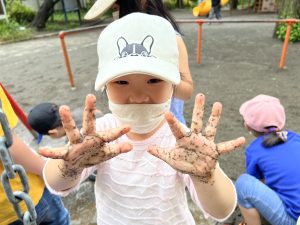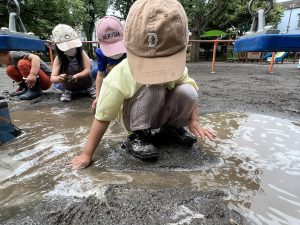 After the rain, we went to the park to enjoy some fresh air.  Our learners usually love playing on the equipment at Shiroyama Park, but on this day they all decided to forgo the equipment and play with the mud puddles.
Our learners made mud cakes, mud masks, and even made a canal connecting two puddles together.
Outing Day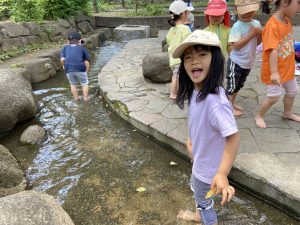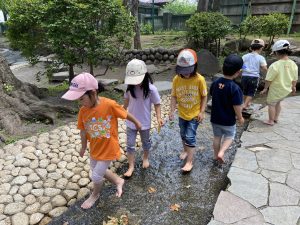 While at the park, our learners spotted some workers working on the wadding pool.  One of our learners got the courage to ask them what they were doing and they told us that they were fixing the wading pool.  If we waited another hour we could play with it.  Unfortunately we had to head back to school that day, so we promised our learners we would be back to play with it soon.
As the first wadding pool of the summer, we decided to go back and make an outing day out of it.  Our learners spent the whole day playing in the cool water.  The ground was a little rocky, but our learners used their sense of touch with their feet to explore the wading pool.