I am a Plant Project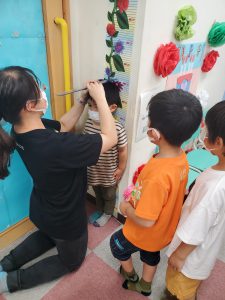 This week we focused on the "I am a Plant" Project as well as did a few other activities.
We learned how we are like plants.  Plants need to eat and drink to grow.  Plants eat sunlight and drink water.  We eat food and drink water too.  If we eat food and drink lots of water we will grow big just like plants.
For this project we turned ourselves into plants!  First, we measured how tall we were, then traced ourselves on some paper.  After that we used the celery leaves to paint our plant selves.  Later when the paint was dry we decorated our plants with some roots, leaves, and flowers.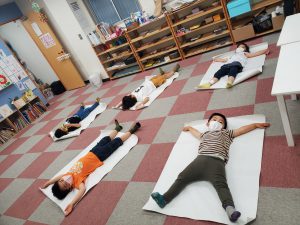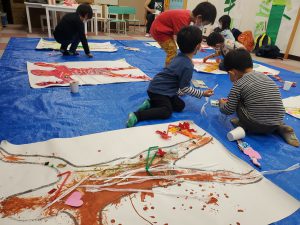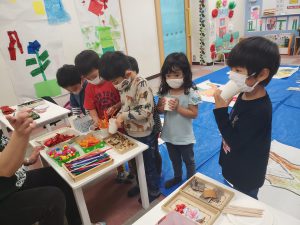 Roots Twister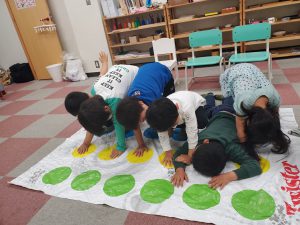 We spent a lot of time learning where the parts of a plant are, but we finally learned what the roots do.  We learned that roots drink the water from the ground.
For this game, we became plants and our hands and feet became roots.  We had to find the correct color water to put our roots in.  We also had to balance and not fall down.  It was difficult, but we all seemed to have fun.
PE: Soccer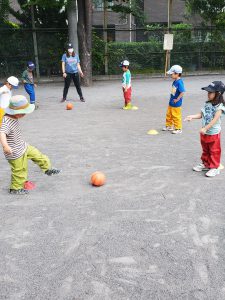 We practiced our foot-eye coordination by kicking the ball and stopping it with our foot.  Kicking the ball was easy, but it was difficult to kick straight.  It was also a little difficult to kick the ball hard to make it go far.  We found that stopping the ball with our hand was easy, but when we had to stop it with our foot it was very hard.  No one could stop the ball with our feet.  We had to wait for it to slow down and hit our legs before we could stop it with our feet.
Soccer was challenging since it was the first time for many of us to try stopping the ball with our feet, but it was lots of fun.  We all had a smile on our faces and were determined to stop the ball with our feet.
Cleaning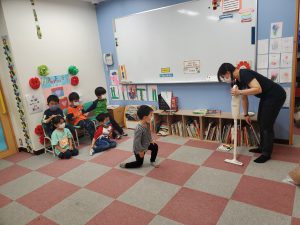 Because we use the classroom daily, we have to help clean it.  We learned how to help clean the classroom.
We strive to be able to do things independently like our older friends in the elementary division, so many of us really wanted to learn how to help clean.  We learned how to vacuum, clean the carpet with tape, sweep the floor, clean the sink, clean the toilet, and wipe the tables and floor.  After that we set up a cleaning chart.  We now help clean up the classroom everyday.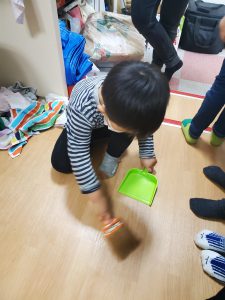 Cooking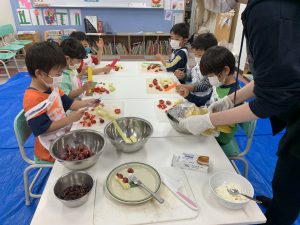 This week we made fruit and vegetable bugs using bananas, grapes, celery, raisins, and cream cheese.  We all had fun chopping up the celery and bananas.  The celery was a little difficult to cut, but after getting some help from the teacher and putting some muscles into our chop, we were able to slice the celery.  We made ants, butterflies, and some friends even made their own original creations.
Outing Day: Mabashi Park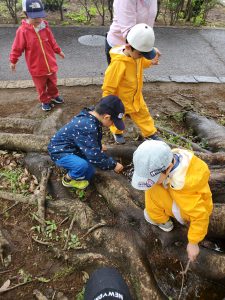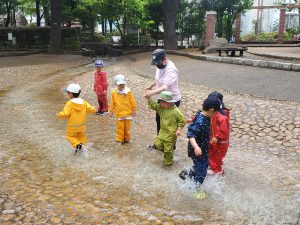 For this week's outing day we went to Mabashi Park.  It was drizzling, so we wore our rainwear.  Due to the rain, the park was empty.  We had fun sliding down the wet slides and jumping in puddles.  We also found lots of water puddles by the roots.  One of out little ones said, "Look it's drinking water!" as she pointed to the puddle by the roots.
Although it was a bit rainy, we were able to have fun in the park.  We ate under a gazebo due to lots of rain during lunch, but after that we found a small stream.  We all decided to slash and play in the stream.  Even the children, who don't like getting wet had fun splashing in stream.