Art
Action Paint
It was a beautiful sunny day outside, so the teacher decided to do a spontaneous art activity.  We put down some white fabric and weighed it down with some rocks we found outside.  We then took the paint and splashed it onto the fabric.  There was no right way or wrong wait to paint the fabric.  All we had to do was cover the fabric with paint and make sure there was no white fabric showing.  We splashed, poured and even brush-painted the whole sheet.  Some of us even used our hands and made handprints.  It was fun.
Play
Building Towers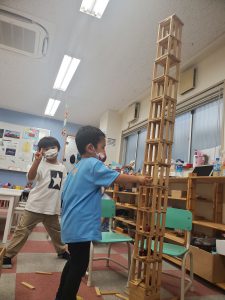 Lately, during free time we have been interested in making towers.  We try to build the towers by ourselves.  When it gets too tall we use chairs, but sometimes we need help from the teacher when we want to make it taller.   Sometimes we put cars and toys inside the "garage tower," as we call it.  We found that if we put stand the Kapla up it gets really tall, but falls down easily, so we need to be careful.  We also cannot touch our friend's towers without permission because we might break it.
Outing Day

Asakusa Pier Cruise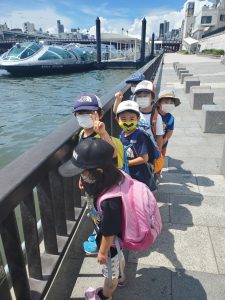 We took the long journey to Asakusa to ride the boat from Asakusa all the way to Hinode Pier!
Before riding the boat, we explored the pier and looked at some of the other boats in the river.  Some boats were fast, but others were slow.  We also saw some jet skis in the river.
When it was our turn to board the boat, we were excited.  We had to be careful when we walked because the waves moved the boat around.  We were a little nervous because we didn't know if the boat was going to go slow or fast.  When it moved we jerked a little, but it was a slow and comfortable cruise.
During the ride, we got to experience not only riding the motor-powered boat, but we also saw many other types of boats! We saw some tug boats, police boats, jet skis, construction boats, and even a few old style paddle boats.  We made sure to point them out to each other as we rode the boat.  Since we saw more than one police boat, we wondered if there was a lot of bad guys in the water and if they steal boats.