Rain, Puddles, Mud, and Slides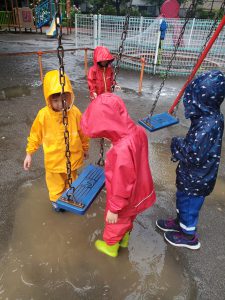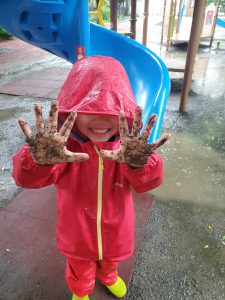 Here at TCS we are always on the move.  Rain or shine, we always go out for an adventure.  On rainy days our favorite place to go is the park.  When it's sunny, the park is always crowded and filled with people.  We can climb on top of the play equipment, play in the sand box and run around, but we always have to be mindful of the other children and wait for our turn to slide down.  On rainy days however, the park becomes our private wonderland.
When it rains everyone else avoids the park.  When we get there it is always empty.  Yes, it can be a little cold and the play equipment is wet, but when we put on our rainwear and rain boots we're good to go!  We can splash in the puddles, play in the mud, and slide down the "water" slides.  Of course the play equipment is wet and slippery so we need to be careful, but it is good practice for our gross motor skills and balance.  At first the wet equipment, especially the slides were intimidating and scary, but we slowly got used to sliding down and now we enjoy the fast "water" slides just as much as the slides on a sunny day.